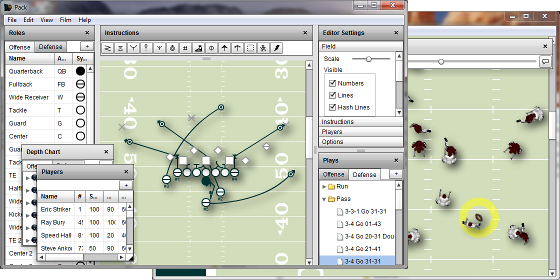 The Premium Coaching Tool

PlayMaker Football features a powerful play editor to diagram and illustrate your plays and concepts. Using simple draw tools and convenient cut, copy and paste, you will create professional looking images for print or presentation. A built-in database manages your playbook, roster and depth chart.

The simulator puts your plays in motion by converting your diagram into an animation. Players run, pass, catch and tackle based on their ability and each instruction in the play. The result is captured as a film that you can scrub backward and forward in real time or frame by frame.

A game module lets you try out all your plays in game situations.

PlayMaker Football for Windows requires Windows XP or later. Download it now and try it out.

Features
Superb play diagramming tools
Predefined instructions like block, zone and motion
Playbook and roster managers
Automatic animation and simulated outcomes